As a company, we are very much part of the workplace evolution, but we see co-working as part of the new working environment as well. As we have recently opened virtual offices in Liverpool, we thought it would be great to have a look at the co-working options as well. Whether you are an entrepreneur, freelancer or creative that is looking for a workspace in Liverpool, you're in luck.There are 16 co-working offices in Liverpool and below we have 4 of the best where creative people can work together, bettering their skills and their work as they do. These co-working spaces offer fresh, fun and exciting environments to work toward your business goals. 
Basecamp Liverpool
https://www.coworker.com/united-kingdom/liverpool/basecamp-liverpool
Basecamp Liverpool is a modern co-working space with a slightly industrial vibe about it. The community that calls this office space home is vibrant, varied and extremely supportive of each other. Currently, the members of Basecamp includes graphic designers, bloggers, copywriters, architects and software developers among many other creative talents.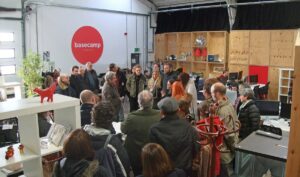 Starting from just £150 a month, Basecamp is a brilliant space to call home and grow a business from. You will be surrounded by creativity in the creative quarter of Liverpool. Plus, Basecamp also has regular workshopping events, conference facilities and a great deal more that anyone using the space has access to. Basecamp is proud to be home to some of the most talented creative minds in Liverpool, and you can join them right now!
DoES Liverpool
https://www.coworker.com/united-kingdom/liverpool/does-liverpool
DoES prides itself on the community that their space has nurtured. They provide an exciting space that is spacious and comfortable to work in. That's just the tip of a very exciting iceberg, though. DoES has very speedy WIFI, tea and coffee making facilities and some brilliant pricing options that suit any creative person's budget.
As we said, though, DoES is all about the community and wants to create a space where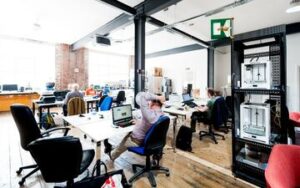 everyone can work hard towards their goals. DoES wants you to feel a part of their community too, so on your first day at this co-working space, bring some cake in and meet the lovely folks you'll be working alongside, you get your first day free and might just meet a few people that can pushyou towards the goals you want to achieve.
Signature Works at Cavern Walks
https://www.coworker.com/united-kingdom/liverpool/cavern-walks
Signature Works was set up for freelancers that are tired from working home. For creatives that feel disconnected and for entrepreneurs that can't seem to find out about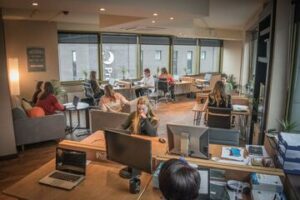 current trends fast enough. However, what they have created is a community in a co-working space that is connected and often works together.
Signature Works is part of the Signature Group, a fast-growing business in the North West of England. When they need talent, they often call upon the creative minds that use its co-working space. So, Signature Works is a nice and modern office space with very competitive prices per month. Still, they also provide a space where freelancers and entrepreneurs can grow and build businesses together.
Unit3 Design Studio
https://www.coworker.com/united-kingdom/liverpool/unit3-design-studio
Unit3 is a very exciting co-working space that is the perfect space for graphic designers or any other creative mind. Unit3 is a design studio that is seeking creative minds to share their office space. They are a team of 5 and have space for another 6 people. Because of what Unit3 is all about, the creative minds that call it home has access to a massive design resource library, printing facilities up to A1, and unlimited refreshments! Oh, and 24-hour access, unlimited use of meeting rooms, private parking, and so much more!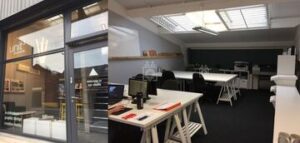 If you are a graphic designer or artist, Unit3 is a very affordable, yet incredible space where you can grow your business and your skill with likeminded people who love to laugh and socialise too. Check out Unit3 now for a very exciting co-working space for any creative mind!